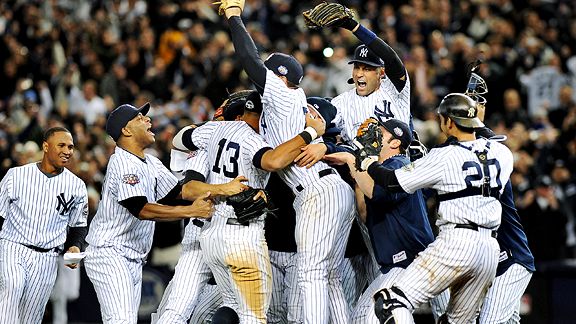 Anthony J. Causi/Icon SMIThey make look good on paper, but the 2010 Yankees still have their weaknesses.
Sure, the Yankees just picked up Javier Vazquez from the Braves for the worst regular in their lineup. And while you may think they look unbeatable now, does this read like a quality lineup to you?
Jorge Posada, C: Is very slow. Like a sloth.
Mark Teixeira, 1B: Has never won an MVP award.
Robinson Cano, 2B: Has never drawn 40 walks in a season.
Alex Rodriguez, 3B: Home runs have declined from 54 to 35 to 30. What's next?
Derek Jeter, SS: Only four players have grounded into more double plays the past three seasons.
Brett Gardner, LF: OPS+ was less than league average.
Curtis Granderson, CF: Can't hit lefties.
Nick Swisher, RF: Not exactly Reggie Jackson.
Nick Johnson, DH: Has never hit .300 in a season.
CC Sabathia, P: Has never won 20 games.
A.J. Burnett, P: Led the AL in walks and wild pitches.
Andy Pettitte, P: Has allowed the fourth-most runs in baseball over the past four seasons.
Javier Vazquez, P: This ain't the National League, bud.
Joba Chamberlain, P: Posted 5.40 ERA in the second half.
Mariano Rivera, P: Was only a .500 pitcher (3-3) last season.