Today, there are movies and TV shows dedicated to Christmas and even some to Hanukkah. But what about Kwanzaa?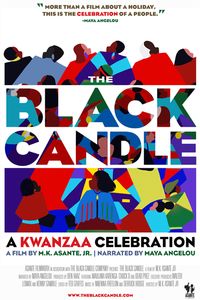 The weeklong U.S. celebration honoring African culture and heritage begins Saturday, and there is a one-hour special on cable station TV One at noon ET Saturday.
Created in 1966, Kwanzaa celebrates seven principles: unity, self-determination, collective work and responsibility, cooperative economics, purpose, creativity, and faith.
Poet Maya Angelou narrates the TV special about the 2009 documentary "The Black Candle," directed by author M.K. Asante Jr. The DVD was released this month.
"I wanted to make a film that would bring people together and illuminate the principles," said Asante, who is a professor at Morgan State University in Baltimore. "We brought together many of today's great thinkers and have them discuss what the holiday meant to them."
NFL Hall of Famer Jim Brown, hip-hop legend Chuck D of Public Enemy and Kwanzaa founder Dr. Maulana Karenga are among the celebrities who took part.
Chuck D said today's athletes probably don't even understand the struggles that African-Americans have endured.
"This is a story of our people. So many voices. So proficient. They are speaking about our past, present and future," Chuck D said. "All we do today is sit on front of a TV watching reality programming. We listen to the radio and iPods. We need to penetrate the weapons of mass distractions and focus on the principles of Kwanzaa."