Philadelphia Eagles: NFL team established in 1933. Member of the East Division of the National Football Conference. Only member of the NFC East never to win a Super Bowl. Awarded 2010 Ed Block Courage Award to renowned cat person Michael Vick.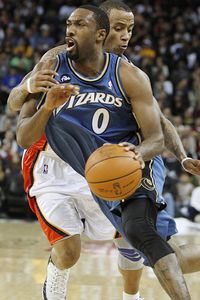 AP Photo/Ben MargotThings must be rough in Gilbert Arenas' locker room.
Arenas, Gilbert: College: University of Arizona. Guard, selected in second round of 2001 NBA draft by Golden State Warriors. NBA Most Improved Player, 2002-03. Signed as free agent with Washington Wizards for 2003-04 season. Three-time NBA All-Star. Nicknames: Agent Zero, Hibachi. Missed most of 2007-08 and 2008-09 seasons with injuries. Believed work locker was best place for firearms.
Super forward: Term coined by Portland Trail Blazers of the National Basketball Association as a replacement for "center." Prompted by freak, curse-like injuries to previous team centers (Bill Walton, Sam Bowie, Greg Oden and Joel Przybilla). "Super forward projects strength, durability and escapability," according to Portland news release. Anthony Tolliver first super forward in NBA history.
Boxing: "The Sweet Science." Hand-to-hand combat codified by Marquess of Queensberry rules, including stipulations that no wrestling or hugging is allowed, nor will shoes with spikes be permitted in the ring. Well-known champions include Jack Dempsey, Joe Louis, Rocky Marciano, Sugar Ray Robinson, Cassius Clay (Muhammad Ali) and Mike Tyson. Hugely popular sport in 20th century. Rise of mixed martial arts (MMA) in 21st century has diminished its popularity, as has the propensity for the sport's most popular boxers to threaten to sue each other for defamation of character rather than settle it in the ring.