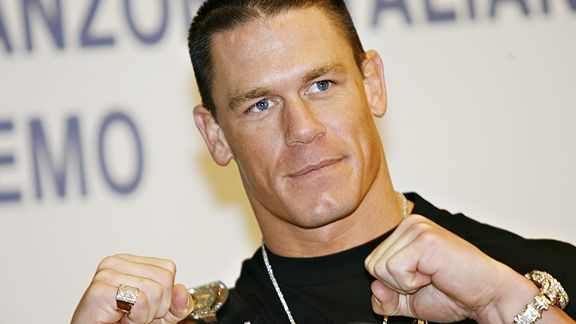 AP Photo/Luca BrunoWWE superstar John Cena is going to be the grand marshal of the Fiesta Bowl next week.
WWE superstar John Cena hasn't seen a college football game live since he played Division III football for Springfield (Mass.) College in the late 1990s.
No wonder he's really excited to be the grand marshal of the Fiesta Bowl on Jan. 4 between undefeated Boise State (13-0) and undefeated Texas Christian University (12-0). And he gets to flip the coin to start the game.
"This is a special opportunity for me," said Cena, who was a Division III All-American center at the Massachusetts college. "It's going to be really exciting. I can't really go to too many games because I work for a living."
That "work for a living" thing is 300 days on the road performing for the WWE.
Cena, 32, of West Newbury, Mass., is one of the leading faces of the pro wrestling organization, winning the world championship seven times. He has parlayed that into appearing in a couple of movies and recording a hip-hop album. But wrestling will remain his true love.
"I've wanted to do this all my life. I can't imagine doing anything else," said Cena, whose dad will be in the front row Tuesday night for a show in Manchester, N.H. "Some people as a kid play baseball and basketball and then don't get to do it for a living. I always wanted to be a wrestler."
While Dwayne "The Rock" Johnson and Hulk Hogan have pretty much given up wrestling to focus on movies, Cena isn't thinking about that. Even after getting married this past summer, he isn't leaving wrestling any time soon.
"I love my job too much to leave it. I'm going to stay as long as my body allows," he said. "My wife understands this. She was there with me when I had no money. Granted, sometimes she has to use a cardboard cutout of me at the movie theater to pretend we're on a date. But she understands."