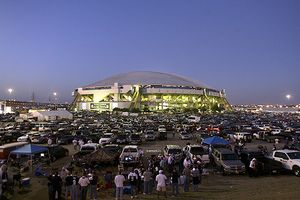 AP PhotoA cheesy explosion sounds fun and delicious.
Mac and cheese too bland?
Just add dynamite.
Kraft Foods is reportedly the front-runner to sponsor next year's demolition of Texas Stadium.
In fact, Page 2 loves the notion of corporate-sponsored Ka-Bloom! so much that we'd like to attach our name to the inevitable "Hurt Locker" denouement of sports items which have outlived their usefulness. Behold, our list:
Notre Dame's "Play Like A Champion Today" sign

Vinny Del Negro's office

A giant pile of Michael Jordan Washington Bullets throwback jerseys, a la Disco Demolition Night

The remains of the SpyGate tapes previously destroyed by the NFL, just to make double-sure no one can ever get a competitive advantage from them, since that's the only conceivable reason anyone would hastily destroy said tapes in the first place

The pretense of a good relationship between Mike Leach and Texas Tech University

Mascot CO2 cannons that fail to reach the upper bowl, even though that's where fans who could most benefit from a free T-shirt are sitting

Whatever MLB bylaws prevent the Pittsburgh Pirates from being relegated to Class AAA

The Dallas Cowboys' new stadium, since it won't be needed for more than one playoff game, anyway.