Honoring the decade's best players and teams is a relatively easy task, because these are the folks who won the titles, grabbed the headlines and carved their names in the record books. Likewise, dishonoring the worst is not heavy lifting. After all, just ask yourself, "Who embarrassed themselves in the past 10 years? Who made us laugh? Who signed a seven-year, $126 million contract with the Toronto Blue Jays and then started playing like a late model Kevin Mitchell?"
Best and worst, we know where to find you -- and you always get your due. But what about the mediocre? We're thinking of those folks who spent the past decade residing in the vast middle ground between sublimity and futility. The well-known players who never made an All-Star team, yet rarely made fans throw their remotes. The teams that never sniffed a title, yet rarely sniffed the basement, either. Why should they exit the decade without a little recognition? They shouldn't.
Consequently, we present the Page 2 Awards for Mediocrity (2000-2009).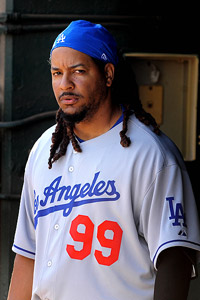 Mark J. Rebilas/US PresswireAt least the Cubs are cursed. What's L.A.'s excuse?
Most mediocre National League team: Los Angeles Dodgers.
• Big-budget team, no World Series appearances. Sure, you can say the same about the Cubs, but they're cursed.
Most mediocre American League team: Toronto Blue Jays.
• Finished third in AL East six times, but last just once. They know their place.
Most mediocre boxing division: Heavyweight.
• When's the last time you bought a pay-per-view fight involving heavyweights? Did it involve "Hurricane" Peter McNeeley? Yeah, that was 1995.
Most mediocre sports month: February, unless the Winter Olympics are on.
• The stretch between the Super Bowl and March Madness isn't called "The Dead Zone" for nothing.
Most mediocre college football team: Notre Dame.
• A school whose games are broadcast on a national television station each week should loser fewer than 10 straight bowls.
Most mediocre Yankees player: Melky Cabrera.
• Not too often a Yankee gets demoted to the minors and then comes back to start on a World Series winner. Jason Giambi could have done it -- but he didn't accept his demotion to the minors and he never won a World Series.
Most mediocre sports column: This one, obviously.
Most mediocre NBA team: Houston Rockets.
• If the goal is winning 22 games in a row, the Rockets are your team. If the goal is making it past the first round of the playoffs, then they're probably not.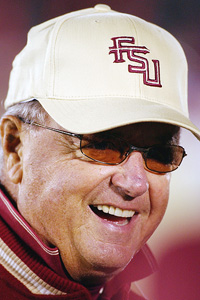 Jonathan Daniel/Getty Images'Things were so much simpler in 1996. Like winning.'
Most mediocre college football conference: ACC.
• Last national championship, Florida State in 1999. Back when Bobby Bowden dreamed of dying on the job.
Most mediocre NFL team: Dallas Cowboys.
• "America's Team" hasn't won a playoff game since college freshmen were in kindergarten (1996).
Most mediocre, repeatable sports story: Will the Colts go undefeated this year?
• Something tells me this story won't have the same legs in the coming years.
Most mediocre Super Bowl: None.
• You might be tempted to say Super Bowl XL when the Steelers faced the Seahawks, but who doesn't remember the sublime officiating?
Most mediocre World Series: Red Sox over Rockies in 2007.
• The curse had been broken three years earlier, and the Rockies were flat after clinching the NL early and spending the interim making snowmen.
Most mediocre holiday: New Year's Eve, also known as Amateur Night.