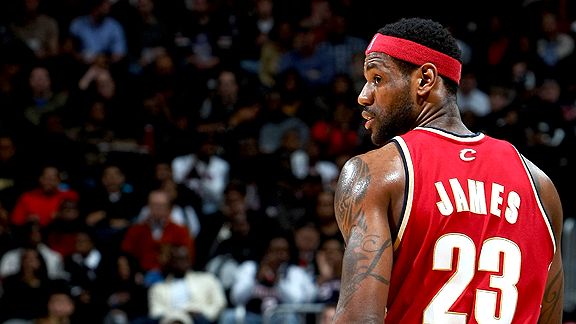 Kevin C. Cox/Getty Images It shouldn't be a surprise that LeBron James was the most searched NBA name on ESPN.com.
As we close the door on 2009, we look back at the most searched words on ESPN.com.
Picks were a common theme in top searches, whether it was our NFL experts' weekly picks, President Obama's NCAA tourney picks or current and future top picks in the NFL, MLB and NBA drafts.
Here's some stats and hit the "Read More" button for the complete list:
Overall: NFL expert picks
Autos: NASCAR
Boxing: Manny Pacquiao
College basketball: NCAA tournament bracket
College football: Bowl projections
Contests & Games: Streak for the Cash
Golf: Tiger Woods
MLB: World Baseball Classic
MMA: UFC
NBA: LeBron James
NFL: NFL expert picks
NHL: Alex Ovechkin
Other Sports: College baseball
Shows: PTI
Soccer: UEFA Champions League
Tennis: Serena Williams
Top Movers: Bryce Harper
Women: WNBA