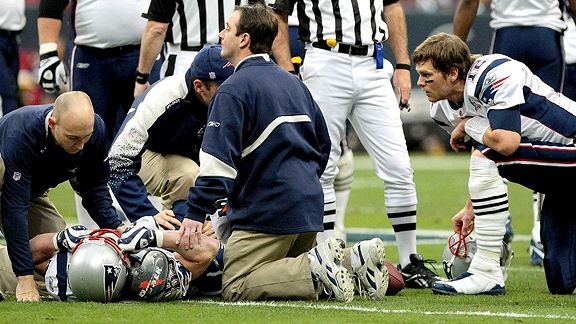 Thomas B. Shea /Icon SMINew England Patriots players, including Tom Brady, look as medics attend to Wes Welker.
Congratulations to Chris Johnson, the sixth member player in NFL history to rush for 2,000 yards in one season. Or maybe not.
2,000 yards is the only statistic in football that resonates with all fans on all levels, but, consider the other members of the 2,000 club -- O.J. Simpson, Eric Dickerson, Terrell Davis, Barry Sanders and Jamal Lewis.
• None rushed for 2,000 yards again.
• Two, within 18 months of hitting the magic number, were finished as pros.
• One, within 18 months, spent four months in prison before serving more time with the Cleveland Browns.
• One played for the Detroit Lions for 11 years.
Best of luck, Chris, but it looks like Prince was right -- the fun stops at 1,999.