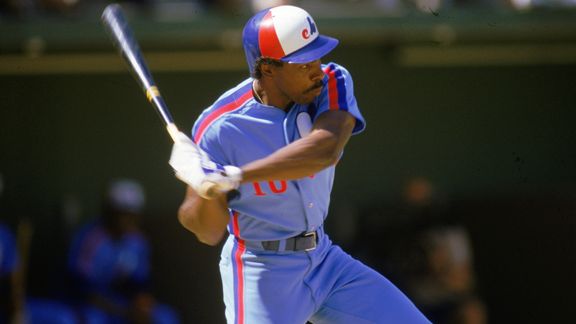 Rick Stewart/Getty ImagesWill Andre Dawson be named to baseball's Hall of Fame on Wednesday?
Baseball Hall of Fame voting is kind of like Tiger Woods: the more you try to analyze it, the less sense it makes.
For example, Jim Rice received 29.8 percent of the vote his first year on the ballot. His support slowly increased, and in his 15th and final year he received 76.4 percent and was elected. Don Mattingly -- similar in many regards to Rice: played for a big-market team, won an MVP award, never won a World Series -- started about the same place as Rice, with 28.2 percent of the vote. But his support has fallen to 11.9 percent.
And consider these two players:
Player A: .388 OBP, .459 SLG, 135 HR, 1383 runs, 1139 RBI, 319 SB, one top-5 MVP year

Player B: .385 OBP, .425 SLG, 170 HR, 1571 runs, 980 RBI, 808 SB, one top-5 MVP year

The two players were nearly exact contemporaries. Both were outfielders. Player A scored 100 runs just twice; Player B scored 100 runs six times. Player B actually reached base more times in his career. According to Baseball-Reference.com, both players finished with 1,636 runs created, using a near identical number of outs.
Not a whole of difference between the two, is there? Now, I left out one piece of information: Player A finished with 3,141 hits, while Player B had 2,605. Player A is Tony Gwynn, who was elected with 97.6 percent of the vote. Player B is Tim Raines, who received just 22.6 percent last year.
Here's another one:
Player A: .279 AVG, .323 OBP, .482 SLG, 438 HR, 1591 RBI, 1373 runs, 2774 hits, three top-5 MVP years

Player B: .290 AVG, .339 OBP, .471 SLG, 339 HR, 1493 RBI, 1272 runs, 2712 hits, five top-5 MVP years

The two players were nearly exact contemporaries and spent most of their time in the National League before going over to the AL. Both won MVP awards. Both won multiple Gold Glove awards. Both had cool nicknames. Player B won two World Series; Player A never appeared in one.
Pretty similar, no? Player A is Andre Dawson, who is a good bet to get elected this year. Player B is Dave Parker, who received just 15 percent of the vote last year.
So when the results are announced Wednesday and you wonder why your player didn't get elected or how Lee Smith could get more votes than Raines and Alan Trammell combined, remember this: there is no logic.