It's time for the Wednesday edition of the Page 2 Podcast so here is a little rundown to help you get started: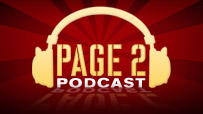 Quien Es Mas Macho?
Scott Boras or the Cardinals?
What Choo Talkin' About?
Michigan's new AD to show up in 30 minutes or less.
Page 2 Game Ball
Dodgers outfielder Matt Kemp and Rams quarterback Kyle Boller are dating Rihanna and Carrie Prejean, respectively.
Stay Classy
Former Bears offensive coordinator Ron Turner blames the tools, not the carpenter.
Final Countdown
Three: Super Bowl sit outs.
Two: Or 22, seasons for the Big Unit.
One: More opening act before Thursday's BCS title game.
All the stories worth talking about today are right here so … Click here to listen up!