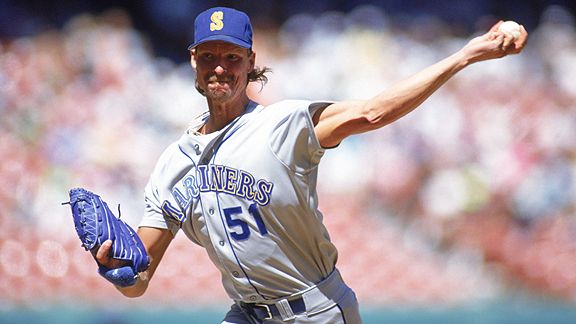 Bernstein Associates/Getty ImagesRandy Johnson announced his retirement on Tuesday, so we're going to have a little fun with him.
Randy Johnson had a "big" career. A five-time Cy Young Award winner, the 6-foot-10 lefty won 303 games and finished with the second-most strikeouts in major league history, 4,875. With a résumé like that, he deserved a "big" nickname -- and, boy, did he get one.
In honor of Johnson, who announced his retirement on Tuesday after 22 seasons, Page 2 presents a quiz about the origins of his oversized moniker -- with a nod to some other "big" name players in MLB history, including Big Poison, Big Donkey and The Big Hurt. Take our quiz to see how "big" of a baseball fan you are.
1. Randy Johnson was known by what nickname?
a) The Big Mullet
b) The Big Unit
c) The Big Lanky
2. Who gave him this nickname?
a) His wife
b) His rabbi
c) Tim Raines