The lesson from Wednesday's Hall of Fame vote: If you break a specific rule by spitting on a ball, there is a spot for you in Cooperstown (Gaylord Perry). But if you're just outrageously rude by spitting on an umpire, well, not so fast.
Robbie Alomar, one of the greatest second basemen in history, fell eight votes shy of being elected to the Hall of Fame. The good news is having come so close in his first year on the ballot, Alomar will almost certainly reach Cooperstown next year (in all fairness, it took Gaylord Perry three years on the ballot). But if any BBWAA members failed to vote for Alomar simply because he spit on umpire John Hirschbeck, they should recall that Babe Ruth punched an umpire.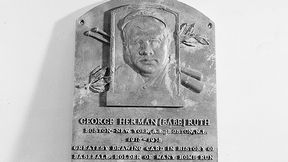 AP Photo
A sampling of actions by Hall of Famers that were much worse than spitting on an umpire:
• Refusing to play in games against minorities and helping to instigate the color barrier (Cap Anson).
• Punching an umpire (Ruth).*
• Going into the stands and savagely attacking a fan who had only one hand (Ty Cobb).
• Bashing an opponent over the skull with a bat (Juan Marichal).
• And of course, spitting on all of Brooklyn (Walter O'Malley).
* This led to one of the great days in baseball history. Ruth, the starting pitcher, walked the first batter, Ray Morgan, on four pitches, got into an argument with umpire Brick Owens and threatened to punch him. Owens ejected Ruth, and the Babe responded by punching him. Ernie Shore replaced Ruth and Morgan was thrown out trying to steal second base. Shore then retired the next 26 batters for a perfect game.
(Wait, did I say a perfect game? I meant an ''unofficial'' perfect game because, of course, former commissioner Fay Vincent decided that, after only about 75 years, Shore's performance was no longer an official perfect game. What, just because Fay Vincent decides something we're supposed to act like it doesn't count as official? As you might guess, this still really pisses me off.)