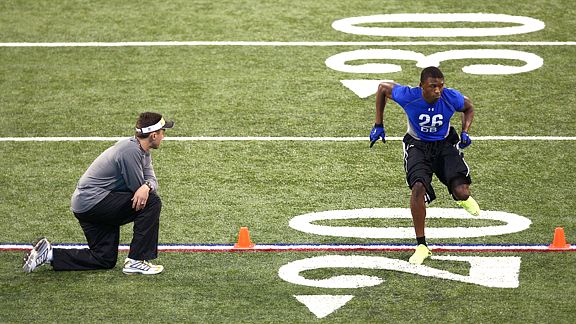 Joe Robbins/Getty Images
There's a rumor floating around that EA Sports may soon announce a Wii Fit-inspired video game dubbed "NFL Trainer," in which -- you guessed it -- players engage in football-themed exercises and workouts, possibly with the help of a football-shaped Wii remote attachment.
Will the game be authentic? Probably as much as the "Madden" games. Will it live up to EA's "It's in the game" motto? Only if the software maker takes our advice and includes the following features:
• A Wii remote attachment in the shape of a clipboard ( NFL Trainer: Tarvaris Jackson Edition only);
• Digitized screams of "Let's go, Hoss, HUUUUUUUHHHH!" courtesy of Arizona Cardinals strength coach John Lott;
• A 350-pound barbell bench press attachment for the Wii remote, made of white plastic;
• A cortisone shot attachment for the Wii remote, to be deployed immediately following use of the 350-pound barbell bench press attachment;
• Downloadable, stopwatch-holding Miis modeled to look like NFL scouts and coaches, all of whom shake their oversized cartoon heads after assessing your 40-yard dash time;
• Special arm curl final boss battle vs. Ed Hochuli;
• A Wii remote MRI scan attachment that accurately diagnoses your physical injuries, and a dour, hoodie-wearing Mii to tell your family that you are simply "questionable";
• A way for Nintendo and EA Sports to charge you 500 Wii Points for every missed day of Organized Wii Activities;
• An empty Whizzinator in the shape of the Wii remote, the better to avoid suspension for using banned substances and/or store extra Mountain Dew.