The BCS has been decided, but there's stilll time before the NFL playoffs to enact a mandate against certain words used during broadcasts.
In fact, let it be done. The following terms are hereby banned from any and all sports broadcasts.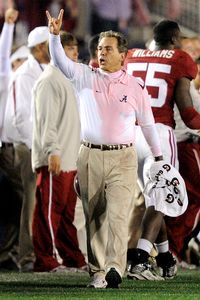 Kevork Djansezian/Getty Images Let this be the last time we hear the words barn-burner and jiggy.
nifty
neat
smash mouth
gangbusters
barn-burner
doozy
posse
posterize
getting off the snide
wily (or savvy) vet
team of destiny
icing on the cake
knack for the ball
jiggy
game face
gut check
when the fat lady sings
when it's all said and done
snazzy
chippy
What press-box phrases drive you crazy? We want to know. Tweet your Banned Broadcast additions to @espn_page2