It's time for the Friday edition of the Page 2 Podcast so here is a little rundown to help you get started: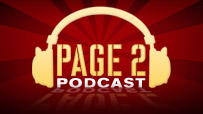 Quien Es Mas Macho?
Colt McCoy vs. Colt McCoy
Page 2 Game Ball
Browns WR Josh Cribbs -- with honorable mention to his Twitter account.
Stay Classy
Uber-champion Nick Saban
Final Countdown
Three: Wait, what's the name of the place the Dolphins play?
Two: Congrats, Mark Ingram. You're in great company.
One: Broadway Joe re-enters the Super Bowl prediction business.
All the stories worth talking about today are right here so … Click here to listen up!