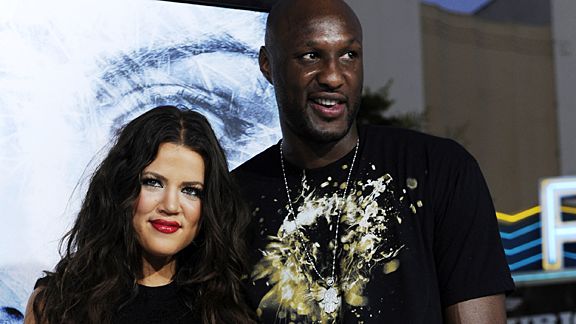 AP Photo/Chris PizzelloKhloe Kardashian stands by her man, Lamar Odom, as he creates a new clothing line.
Lamar Odom has long been known for his basketball abilities -- he helped the Lakers to an NBA title last June -- but who knew he had a flair for fashion design?
The Lakers forward recently launched his Rich Soil clothing line at trendy L.A. boutique Kitson.
"I'm more than just the person that funds it," Odom said of his involvement. "I look over all the designs and come up with designs myself. It's something that I've always been interested in and wanted to do."
After all of the design and planning stages, Odom now gets to see the payoff.
"It's really neat, when I walk around town and see people with it on," he said. "It's an incredible feeling."
Odom worked to create a complete line: "It's everything -- T-shirts, denim, button downs. I've got a women's line that I'm working on."
A women's line seems like a natural progression for Odom, whose whirlwind courtship with wife Khloe Kardashian and their reality TV event wedding has introduced him to a whole new demographic.
"It's no longer just sports fans that know who I am and recognize me," Odom said. "All the people who were into 'Keeping Up' or who follow the Kardashians. I'm kind of popular in their eyes now."
As for married life? It appears the honeymoon is still going strong.
"It's beautiful," Odom said. "It's everything I thought it would be."
With life going well, Odom wants to maintain the momentum.
"I hope to win another championship," he said. "I look forward to watching my business and brand grow and growing as a player and now as a husband."