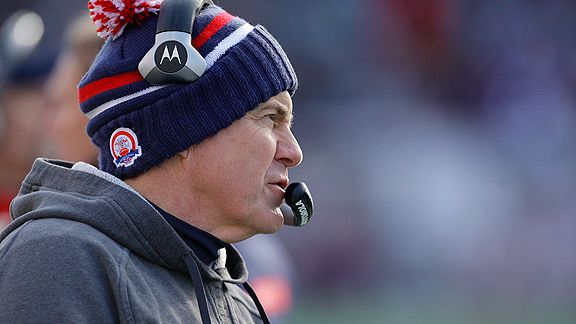 AP Photo/Charles KrupaNew England Patriots coach Bill Belichick made some head-scratching decisions again.
In New England's AFC Wild-Card game against Baltimore, Patriots coach Bill Belichick made a decision to begin the game that proved to be the difference. The question is: Why did he make that decision?
Broken down, we can understand that Belichick's decision after winning the coin toss to open the game to kick the ball to the Ravens can be directly linked to the the infamous fourth-and-2 call he made against the Indianapolis Colts.
The breakdown:
• In that game against the Colts, the one thing that came from that call was the belief that Belichick didn't believe in his defense. He claimed that wasn't the case. But that perception still existed.
• For almost two months the Patriots have had to deal with that possible truth hanging over their team. There's been nothing Belichick could do leading up to the playoffs to counter the rumors. He was just waiting for the opportunity.
• Playoffs begin. Wild-Card game. An opportunity for Belichick to finally get this off his back.
• In a game at home against a team that is not known for being an offensive treat, Belichick figured it was safe. What better time to instill confidence in his defense and squash the lack of confidence rumors than to let his defense open up the game against the Ravens.
• Coin flip: Pats win. One play later: Pats lose.
• For the second time this season, Belichick made the wrong decision. This one cost him more than just a game.
So you see how this all came about: How one decision eight weeks ago affected one that decided the Pats' season. Most people won't see it like that, but if you watch enough CSI, it'll make sense.