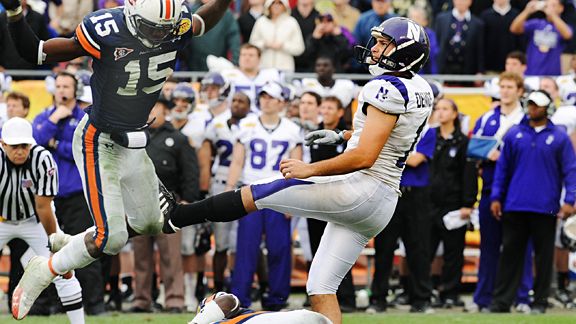 Al Messerschmidt/Getty ImagesStefan Demos had a nightmare game in the Outback Bowl, including missing a potential game-winning field goal.
Wth the college football season finally over, ESPN.com's Ivan Maisel decided to take a look back at the best and worst of the 2009-2010 bowl season. There were some memorable moments, and some forgettable ones.
Worst Loss
Northwestern quarterback
Mike Kafka
throws for 5,000 yards against Auburn -- oh, check that; just 532 -- and four touchdowns. But Kafka, who threw seven interceptions all regular season, threw five, including two in the Tiger end zone, one of which Walter McFadden returned 100 yards for a touchdown.
Oh, it gets worse. The Tigers won in overtime 38-35 after Wildcats kicker Stefan Demos missed a field goal on the last play of regulation and hit the upright in overtime. The Wildcats stayed alive when Auburn roughed Demos and injured his plant leg. With Demos unavailable to try again to tie the game, Northwestern coach Pat Fitzgerald tried a fumblerooski on fourth down from the 5-yard line. Zeke Markshausen gained only 3 yards.