Now that Pete Carroll has traded the Trojans for a raincoat, it's time to get to work.
USC won more games in a down year than the Seahawks did in the last two, proof of how much harder it will be to work under a salary cap.
So what's the Surfin' Seahawk got on his to-do list?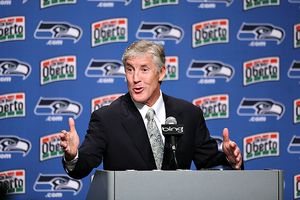 Otto Greule Jr./Getty ImagesThere's much to see and do in Seattle, but Pete Carroll was hired to do something about that smell.
Improve morale with team trip to Pike's Fish Market, so no one can tell they stink.


Find younger quarterback than Hasselbeck. This guy's available.


Get into the Seattle music scene. Visit the Experience Music Project and put "Baby Got Back" on iPod.


Don't bring iPod to work. The owner's a PC.


Go green. Not that green, but green.


Reggie Bush might be a free agent? Put that troublemaker's number under "Do Not Answer" in cell.


Thank Kiffin for making sure USC misses me (hey, John Robinson came back).


Check out a basketball game.