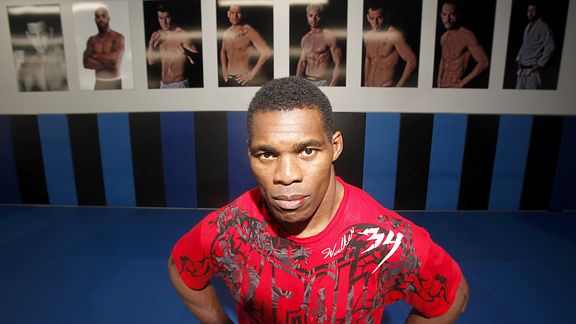 AP Photo/Jeff ChiuHerschel Walker has spent most of the past three months training in San Jose, Calif.
Don't doubt Herschel Walker.
He had a speech problem. He was afraid of the dark. He had multiple personality disorder. He didn't know whom to trust. He got angry for no reason. He was a perfectionist.
And all this happened even before he went to the University of Georgia and became probably the greatest running back in college football history.
"I never listen to naysayers," said Walker, who is 6-foot-1 and 217 pounds, three pounds lighter than when he played for the Bulldogs. "All the things I grew up with made me the man I am today. I learned a lot by my failures."
And that man today is 47 years old and ready to step into the Mixed Martial Arts arena for the first time Jan. 30 to fight Greg Nagy in Strikeforce: Miami.
After a great college career and 14 years in pro football, Walker got interested in the violent sport of MMA. He started really training in September and will emphasize punching over grappling against Nagy, who is 1-1.
"I always loved it, and I wanted to be the ultimate gladiator, so that's why I'm getting into the cage," said Walker, who is a sixth-degree black belt in taekwondo. "Look, I might be 47, but I don't look or feel like I'm 47."
Walker still does about 2,500 sit-ups a day. Reduced his pushups from 1,500 to about 750 a day. Still eats one meal a day. Still gets only about five hours of sleep a day.
"I just can't sit still. I have to be doing something all the time," he said. "I've been blessed with this gift of a healthy body. If I don't use it, God might take it away."
Again, don't doubt Herschel Walker.