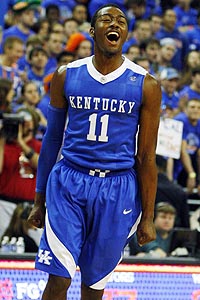 Kim Klement/US PresswireJohn Wall's stardom has grown beyond Kentucky's borders to the Hollywood hills.
It was a no-brainer for actor Josh Hopkins.
The actor who plays Courteney Cox's know-it-all neighbor on ABC's "Cougar Town" was asked to add a little dance to punctuate a funny moment on the comedy series. His solution?
Break out into an all-too-familiar move to Kentucky hoops fans everywhere: A little fist-pumping move known as the John Wall Dance. So far, he's managed to get it in two episodes of the show.
"I'm a huge Kentucky fan. So when there was a chance to do the John Wall dance, I went into character," said Hopkins, a Kentucky native and son of a former congressman. "Every time anything good happens now, Grayson, my character, does this. I'm trying to get everyone on the show to do it."
His co-star, actress Busy Philipps shoots him a quick look and dramatizes a groan.
"Oh God, he does it all the time on set," she said, laughing.
Hopkins' master plan is to get all his colleagues on board for what he says will be a slam-dunk season for Kentucky basketball.
"I think we're going to get our eighth national championship," he said. "We got a straight freshman. We got a new coach. Everybody's excited again. This is so much fun.
"We should be done shooting the show when they make the Final Four -- and they will -- and I should be able to get to Indianapolis."