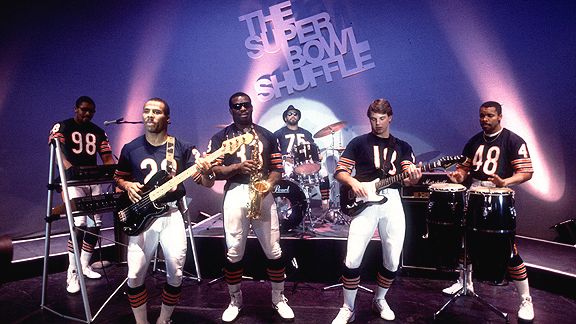 Paul Natkin/NFL/Getty ImagesThere's never been another music video quite like this one.
CHICAGO -- Like every other living member of the 1985 Chicago Bears, Willie Gault is always in the mood to reminisce about the day that made his championship team immortal and unforgettable.
"It gave us a sense of pride to know we accomplished something as a group, something very few people get an opportunity to do," he said. "And to win the Super Bowl on top of that was really rewarding."
Yes, Speedy Willie, still "smooth as a chocolate swirl," was talking about "The Super Bowl Shuffle," an idea he presented to the team and one that has resonated far longer than did the actual Super Bowl, that 46-10 laugher over the Patriots.
"It reminds people of us," said a smiling Gault of the seven-minute video that featured the worst dancing of the decade outside of a New Kids on the Block concert.
As if Chicago could ever forget the '85 Bears. As if they'd let us.
A couple of weeks ago, a handful of old Bears teammates -- relatively fit and energetic, but wizened and mostly surgically repaired -- got together for dinner and good conversation. These men are some of the most successful ex-Bears, the ones who belong to the East Bank Club and have luxury suites at Soldier Field or live contentedly in sunny locales. Some are still close friends; others moved away decades ago, out of the loop and the Loop.