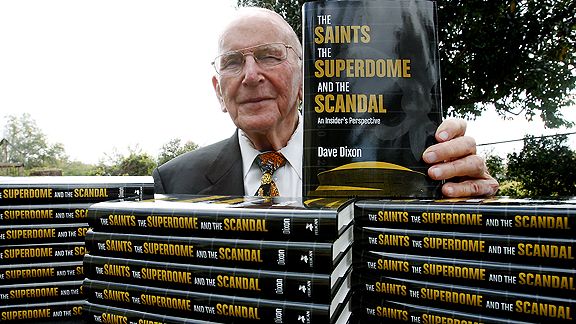 AP Photo/Judi BottoniDavid Dixon helped create the Saints, the Superdome and the United States Football League.
Chances are, the man who created the New Orleans Saints and envisioned the Superdome will watch the NFC Championship Game on Sunday between the Saints and Minnesota Vikings like many fans -- from home.
"I will watch it on TV from now on, I think," said David Dixon, 86, a New Orleans businessman and entrepreneur who brought the NFL to the city in November 1966. "I still get tired. Right now, I am so tired I can hardly move because I really get into [the games]. I'm a very enthusiastic fan. I'm probably not as loud as some of those guys, but I'm pretty strong."
Called the "Father of the Superdome" by some, Dixon worked with then-Louisiana Gov. John McKeithen to make the downtown New Orleans landmark a reality. The Superdome opened in August 1975 and has housed the Saints since its inception, save for the Hurricane Katrina-affected 2005 season when the team split most of its home games between Baton Rouge and San Antonio. Before playing in the Superdome, the Saints called Tulane Stadium home for eight seasons.
The Superdome has hosted many marquee events, including Pope John Paul II's visit in September 1987, the 1988 Republican National Convention, four Final Fours and six Super Bowls. But it has never hosted an NFC Championship Game.
"I always knew New Orleans was a great football town," Dixon said. "I knew the city would go absolutely bananas over the Saints. I was very confident that we could get a great stadium built.
"It's still the best stadium in all of sports."
Sunday, Dixon will watch the Saints try to clinch their first Super Bowl berth from the comforts of his New Orleans residence. Though attending games is too physically fatiguing for him, he said he will do his best to simulate a live experience: He will have about six TVs broadcasting the action, including one in each restroom, so he and his wife, Mary, do not miss a play.
"It's very gratifying the NFC Championship Game will be played here," Dixon said. "It gives the Saints a pretty good chance. We will certainly have the strongest TV set going."