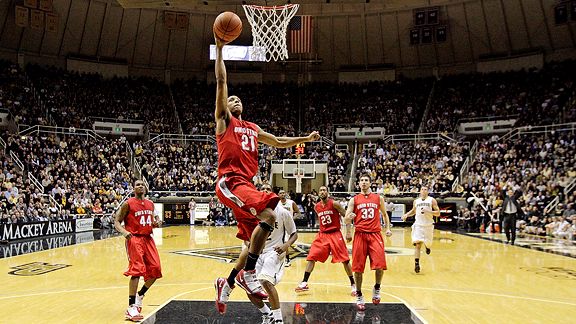 Andy Lyons/Getty ImagesWith Evan Turner back, Ohio State is a force to be reckoned with.
Welcome back to the College Hoops DVR, in which -- depending on whim -- we look backward or forward or just let things play, always in quick succession.
STOP: Xavier's Jordan Crawford, who famously dunked over LeBron James in a pickup game last summer, had 16 points and four assists in Saturday's Atlantic 10 grudge match versus Dayton. You'll have to take my word for it though, because all tape of the game has disappeared.
PLAY: In deference to the sensitivity surrounding mental illness in this country, the "Cameron Crazies" at Duke University would from now on like to be known as the "Cameron Morons."
FF: College basketball recently passed the NFL to become the most popular sport in the United States, so the NCAA plans to capitalize on its status -- the first step being the creation of the NCAA Hoops Channel, which will broadcast the week's best matchups and be available to 0.2 percent of the nation's cable subscribers.
PLAY: Tired of being the "other" freshman guard at the University of Kentucky, Eric Bledsoe has asked his agent to demand a trade.