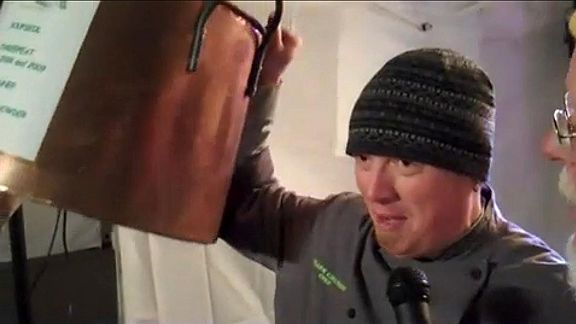 Clark ChurchClark Church is officially The Soup King after winning his fourth straight Soup-er Bowl.
Soup-er Bowl!
While this weekend's NFL divisional playoffs inched us closer to Super Bowl XLIV, Aspen, Colo. ladled up a steaming bowl of hearty competition to get us in the mood.
The Soup-er Bowl goes down at Aspen's annual Wintersköl, which was founded in 1951 for the mountain town citizens to celebrate the finest features of their wonderland. The weekend featured frosty events like skating at the Aspen Ice Garden, the Hike for Hope race, Winterscuplt awards, skijoring (with dogs!) and a torchlight descent of Aspen Mountain.
But these barely hold a spoon to the main event, in which dozens of restaurants compete for a shot at the coveted copperpot in the Soupsköl showdown.
While talk of NFL dynasties are carelessly tossed around each season, the real Souper Bowl dynasty is chef Clark Church of Aspen's Garnish Café and Catering. Church has taken home the trophy every year since he entered four sköls ago. His famous Church Chowder garnered back-to-back-to-back titles and this weekend he took home his fourth copper pot with a brand-new soup. When we heard the news, we called him up to talk about the steamy streak and to get his winning recipe. Here's what he had to say.
Page 2: You're the Sultan of Soup. You won the last three Soupsköl championships with your now-famous Church's Chowder, but this year I hear you rolled out a new recipe.
Clark Church: Well, after back-to-back-to-back wins with the chowder, we thought we'd mix it up a little bit. We retired the chowder, and this year we won with Wisconsin Beer and Cheese Soup.