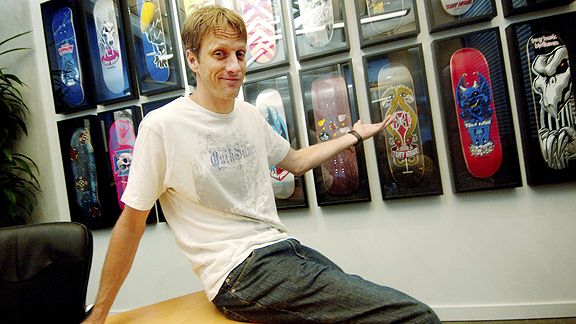 AP Photo/Denis PoroyTony Hawk has once again conquered the world, this time with his skateboarding iPhone app.
Skateboarding legend Tony Hawk's first iPhone app -- Trick Tips -- reached No. 1 in the sports apps category last week. Hawk is a marketing genius in interacting with his fans as he has reached 2 million followers on Twitter. "It's an instant, unfiltered way to connect to fans," he said. The $0.99 Trick Tips include text, video and photos of Hawk giving step-by-step instruction for 50 of the top skateboarding tricks from basic to advance. So Page 2 chased him down to talk about his new venture.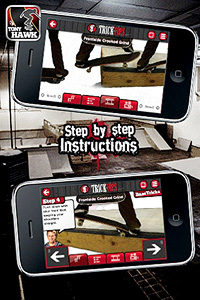 1. Tony, you've always been cutting edge. How did this come about?
"I've been wanting to do an iPhone app for the last couple years, but didn't want to do something quick and easy. I have had success in skating instructional videos in the past, and I knew it could translate well to the iPhone platform. We updated every trick and shot everything in HD in order to use frame grabs. If you don't have an iPhone, an iPod Touch works, too. Or you can watch our previous Trick Tips videos at shredordie.com. We're working on getting the app on other smart phones."
2. You made skateboarding popular, but you didn't stop there. What else are you working on?
"Raising my first girl [Kadence Clover Hawk, who is 18 months old], a sequel to [video game] Tony Hawk: Ride, and supporting public skateparks in low-income areas through my foundation."
3. Tell us some of your favorite tricks and maybe some of your favorite ramps in the United States.
"My favorite moves are 540s [any spin/grab], backside ollies, 360 flips and alley-oop lip tricks. The best ramp in the U.S. is the one we use for my Boom Boom Huckjam Tour. I skate it almost every day, and I am completely spoiled by it. Other than that, Woodward Skate Camp in Pennsylvania has a bit of everything. There are many amazing skateparks across the country, but I hope to provide more to needy youth."
4. Do you consider skateboarding still a youth sport or has it gone totally mainstream?
"It is a sport, an art-form, a hobby or a lifestyle depending on your approach. Many adults [who skated in their youth] have a renewed interest because their kids are into it, and it is more accessible than ever."
5. What makes you happy?
"My family … and landing new tricks."