Everyone knows that one guy who seems perfect. He's smart, great-looking, talented, hard-working, brave, trustworthy, loyal and kind.
He drives you crazy, right?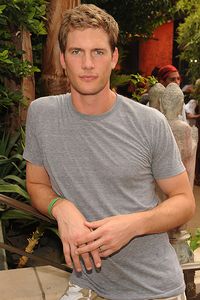 Denise Truscello/WireImage.comRyan McPartlin plays Captain Awesome on NBC's "Chuck." It's not hard to see why.
For "Chuck," NBC's nerd-turned-super-spy, that guy is brother-in-law Devon "Captain Awesome" Woodcomb. Played by Chicago native Ryan McPartlin, "Awesome" is a sky-diving, rock-climbing, former UCLA quarterback and current cardiologist with the cheekbones of a male model and the physique of a Greek god.
McPartlin, 34, doesn't try to deny (much) that he brings a lot of his own awesomeness to the role. He did play high school football (tight end, not quarterback) before walking on at Illinois, where he "spent the first two years as a tackling dummy for Simeon Rice."
Then, as a junior poised to move up the depth chart, he suffered shoulder and back injuries that ended his career. Lost without athletics, Ryan went to Australia to figure out his life.
One year later, undoubtedly encouraged by that whole "ridiculously handsome" thing, he moved to L.A. to study acting. After a short-lived role on the soap opera "Passions," he spent roughly 10 years doing one-shot TV gigs on shows like "The Nanny," "According to Jim," and "CSI: NY."
Then came the Chuck audition.
Most of the actors who tried out played Captain Awesome too arrogantly, McPartlin said.
He wanted to bring something fresh to the part. Truly awesome guys don't put others down. They build them up. They lead.
"[Captain Awesome] is that guy who has everything going for him, and wants to take everyone else along for the ride," he said.
McPartlin's "Awesome" is a bro, a cheerleader and the ultimate wingman. He doesn't bully nerds. He roots for them.
With a growing role on a hit show -- and rumors that he may play Captain America on the big screen -- McPartlin is glad to have found success late in life. Late, at least, by Hollywood standards.
Hollywood can crush you with success as well as failure, he said. "If all this happened 10 years ago. I don't know how I would have handled it."