Worst-Selling Video Games, Summer 2012:
1. "World of Woodcraft III": In an ancient time of Warriors, Evil Wizards and Deep Magic, you're stuck in shop class. Shazam! Nice pencil box, human.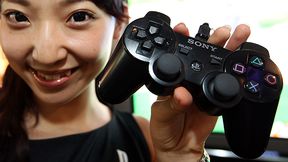 Junko Kimura/Getty Images
2. "Metal Gear Solid 19: Oh, Snap!": Can you sneak Michael Phelps out the back door of this house party without being photographed?
3. "NCAA Football 12: The AD Sanction": See what life is like for an FBS athletic director when your program goes on indefinite suspension, gives up 45 scholarships, voids four full seasons and a bowl appearance and is made to repay three sponsorship deals. Rated SMU.
4. "FIFA Soccer 13: Year of the Transfer Fee": This First-Person-Accountancy (FPA) game allows you to balance the books of any team in Europe.
5. "MLB 2K13: The Road": Adds 29 new on-the-field statistical categories, including enhanced VORP + and attenuated OBP/OPS++(x - y)(2x[z + 4]yz). Also adds 1,127 new postgame hotels, restaurants, bars, gentlemen's clubs and pai gow rooms. Here's your chance to explain to the family where the hell you've been the past eight months and why you haven't called.