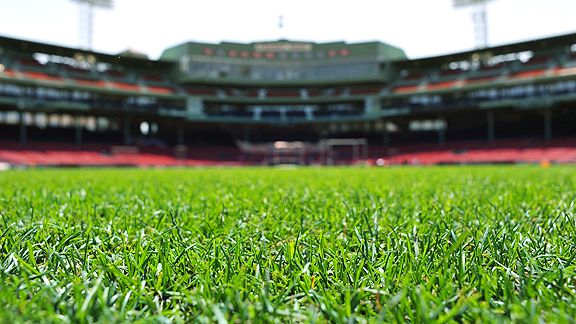 AP Photo/Gretchen ErtlWant your lawn to look like this? You can. Maybe.
From the Department of Ideas That Sound Good Until You Think Them Through, we bring you the following update: Major League Baseball and lawn care company Scotts soon will be selling ballpark-grade grass seed.
Which means your front yard could sport the same ryegrass/Kentucky bluegrass mix used at Wrigley Field. Or Fenway Park. Or Busch Stadium.
Pretty cool, right? Pastoral splendor in every bag? A emerald jewel to make your neighbors green -- get it? Green, like grass! -- with envy?
Er, not so fast.
Here's the thing about good-looking major-league turf: it looks good due to major-league work. Think a head groundskeeper (you). Think full-time staff. Think interns. Think waking up at 6 a.m. every morning to mow your lawn both ways.
Think water, and lots of it. Like, golf course-level utility bills.
Want a cool pattern cut into your lawn, like the curly "W" at Nationals Park in Washington, D.C.? You'll need a $50,000 sit-down mower with five independent blade rollers. And a plastic template. Oh, and since Mother Nature isn't on your new Yard Team payroll, you're gonna need tarp. Plus high-tech radar to know when to use the tarp.
Still, don't take our word for it. Ask Nicole Sherry, Baltimore's head groundskeeper.
"[People ask me], 'How can I get my lawn to look like that?'" she told MLB.com in 2007. "Well, if you want to put in 80 hours a week, you can get it done. But unfortunately, it's still probably going to look like your neighbor's down the street."
To put things another way: major-league seed is a product only Brett Favre could love.