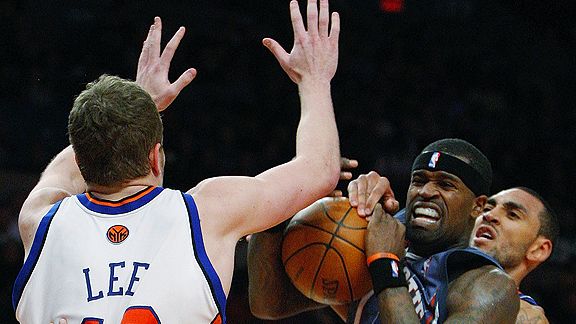 AP Photo/Kathy WillensThe jersey of the New York Knicks' David Lee is one of the most popular in the league -- really.
Welcome back to Sunday Brunch, where you can get your fill of sporting irrelevance. We'll start with trying to figure out how in the NBA can Allen Iverson be starting in another All-Star Game?
We blame the players in the Eastern Conference. There's co-starter Dwyane Wade. No problem with him. But name another East guard capable of keeping Iverson out of the starting lineup. You know who was third in the voting? Vince "I can hit one out of every five shots whenever I want to" Carter. He finished third in the voting! Right now he wouldn't be the third best guard in Orlando.
And it's not just the guards. Pity whomever has to coach the East 'cause he'll have to come up with a 12-man roster. Forget Iverson, who has played in only 16 games this season because of an arthritic knee. The real news will be when the East brings Larry Bird off the bench.
And while we're doing our best to entertain Commish David Stern, the exciting Most Popular Jersey list has been released for the first half of the season. Yes, Kobe, LeBron and Dwight are the top three but what sticks out is No. 13 -- David Lee of your New York Knickerbockers. David Lee? If you are standing in Times Square, wondering when the ball is going to drop because your timing sucks, will you see David Lee Knickerbockers jerseys all around you? And wouldn't that be frightening?
Let's get to the rest of the Brunch, where we do the heavy lifting for you by providing links to some of the best sports humorists in the business.