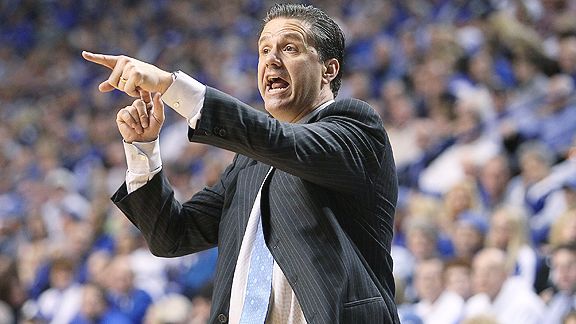 Andy Lyons/Getty ImagesCoach Cal and his Wildcats have yet to lose a game.
Welcome back to the College Hoops DVR, in which -- depending on whim -- we look backward or forward or just let things play, always in quick succession.
FF: Louisville coach Rick Pitino will probably not be singing "Pants on the Ground" if the Cardinals make the NCAA tournament.
PLAY: The Hoyas of Georgetown face the Orange of Syracuse on Monday in a highly anticipated matchup of abstract team nicknames.
FF: President Obama is going to be busy in the middle of March, so he went ahead and filled out his bracket early this year. If your school's not listed in his bracket, sorry, but it won't be making the NCAA tournament this season. Meanwhile, congratulations to Vanderbilt, our 2010 national champion.
REW: After losing to Kentucky on Saturday, Arkansas was accidentally locked out of its locker room in Lexington, prompting Rick Bozich of the Louisville Courier-Journal to tweet, "As if getting beat by 80 wasn't embarrassing enough, Arkansas just got locked out of its locker room after the game in Rupp Arena." Arkansas actually lost by only 31, but we appreciate that level of hyperbole.