Brett Favre gambled yet again on Sunday, throwing an extremely risky pass at the end of regulation in the NFC Championship Game.
Saints cornerback Tracy Porter intercepted the pass, depriving the Vikings a chance to attempt a long field goal for the win. But where does Favre's gaffe rank among the pantheon of terrible postseason passes?
10. Matt Hasselbeck, Seahawks, 2004 divisional playoffs. "We want the ball and we're gonna score!" Oops. Interception.
9. Neil O'Donnell, Steelers, Super XXX. Two perfect throws -- to Cowboys cornerback Larry Brown.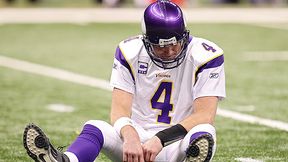 Ronald Martinez/Getty Images
8. Joe Theismann, Redskins, Super Bowl XVIII. Attempted screen pass to Joe Washington. With 12 seconds left in the first half. From their own 12-yard line. The Redskins had successfully run the same play against the Raiders in the regular season. Not this time. Jack Squirek sniffed out the play and returned it for a touchdown that put the Raiders ahead 21-3.
7. Pretty much any pass by Jim Kelly in his four Super Bowls.
6. Probably a pass by Jake Delhomme.
5. Brian Sipe, Browns, 1980 AFC divisional playoffs. Red Right 88. The Browns were in range for a game-winning field goal but attempted one final pass, which Oakland intercepted in the end zone.
4. Garo Yepremian, Dolphins, Super Bowl XII. Don't let your kicker throw the ball.
3. Brett Favre, Packers, 2004 NFC divisional playoffs. The one to Brian Dawkins in overtime.
2. Brett Favre, Packers, 2007 NFC Championship Game. The other one in overtime.
1. Brett Favre, Vikings, 2009 NFC Championship Game. The single worst pass in NFL history. Congratulations, Gunslinger!