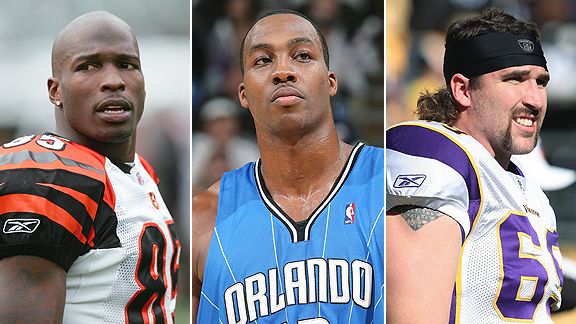 Getty Images
Chad Ochocinco started it.
Dwight Howard, Jared Allen and Terrell Owens will soon follow suit.
The iPhone application continues to cometh for the athlete.
Back in October, I wrote about the Cincinnati Bengals receiver's foray into the iPhone app world. He claimed to be the first athlete with such technology branded after him, but that wasn't quite true: Toronto Raptors forward Chris Bosh already had his own, and New York Jets quarterback Mark Sanchez also had one before Ochocinco's launched, though it's no longer available.
But Ochocinco's wide appeal and charm, matched with his marketing and branding prowess in the social media world, has made his app the tipping point in the market and has turned him into a bit of a pioneer: according to Rock Software CEO John Shahidi, the application recently eclipsed the 250,000 download mark. (Rock Software created Ochocinco's app.) And at least in part because of this, the company has lined up the aforementioned trio of athletes for their own iPhone applications.