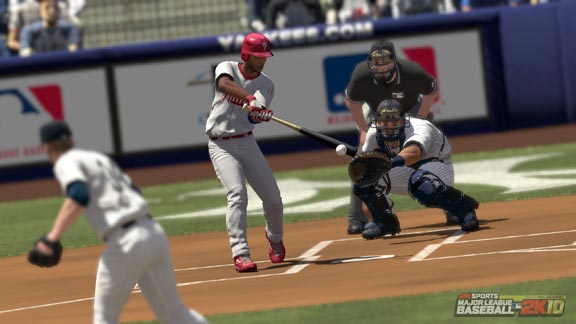 Who would you want pitching with a million dollars on the line?
In an unprecedented video game skills competition, 2K Sports is set to announce the details of a million dollar giveaway involving "MLB 2K10." That's right, one million dollars.
And the rules are simple: 2K Sports is going to give the million bucks to the first person who can throw a perfect game against the CPU on All-Star difficulty starting March 2, 2010 at 12:01 AM PST and ending May 2, 2010 at 11:59 PM PDT. Eligible games can only be played on the Xbox 360 and PlayStation 3 in MLB Today mode playing one of the available match-ups. Then, when gamers choose to play the Major League Baseball 2K10 contest from the menu, the game will automatically default to the proper gameplay setting in accordance to the official rules.
In addition, all entries must be recorded via camera or digital video recorder, and entrants must submit a copy of their recording on DVD in its entirety for verification.
To check out all the official rules, gamers can check: www.2ksports.com/perfectgame.