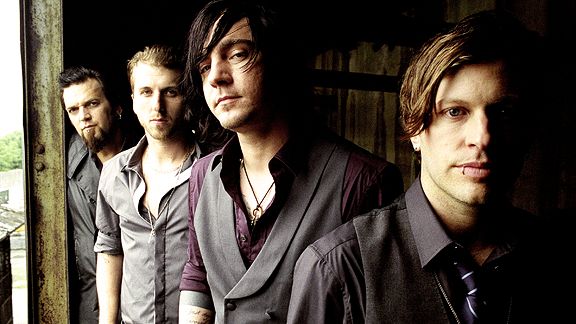 Danny ClinchThree Days Grace has provided three songs for ESPN's coverage of the Winter X Games.
The Winter X Games on ESPN kicked off Thursday.
Ask your kids.
They'll be watching the four-day action sports competition in Aspen, Colo.
One rock band that wishes to be there and can't is Three Days Grace.
The Toronto-based rockers -- Adam Gontier, Neil Sanderson, Brad Walst and Barry Stock -- are huge action sports fans but are on a national tour in the United States to promote their album "Life Starts Now."
So Three Days Grace did the next best thing. They provided some music -- "Riot," "Break" and "The Good Life" -- for ESPN's coverage.
"'We love watching the X Games," said Gontier, who is the lead singer and guitarist. "We grew up skiing, snowboarding and being a ski bum for a couple of years. We just enjoy the winters."
To help Three Days Grace's winter sports fix, they brought hockey equipment on the road. They play concerts Friday in Evansville, Ind., and Saturday in Fort Wayne, Ind., so they might have time Thursday.
"We're such huge hockey fans that we travel with it in our tour bus," Sanderson said. "We usually play concerts in converted hockey rinks. So we put on our skates and we go for it."
Gontier said the band members actually thought about hockey as a career, but thought it was smart to stick to music.
"We wish we were in the NHL. And, since we know a lot of NHL players, they wish they were in a rock band," Gontier said. "There are a lot of parallels to the jobs. But we don't have to wake up as early."