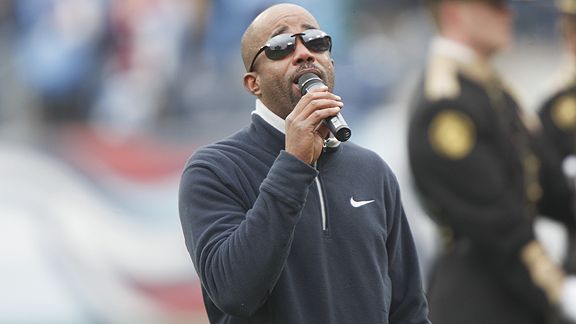 AP Photo/Wade PayneSports fan Darius Rucker wears a "Fantasy Football Legend" T-shirt on his tour with Rascal Flatts.
Country singer Darius Rucker said he'll be depressed on Feb. 7.
What? How could he?
Rucker had a 20-year run as lead singer of Hootie and the Blowfish and now has become a rising country star.
He already has three No. 1 songs on his debut country album "Learn to Live." He's on a national tour with megagroup Rascal Flatts. And he recently won the Country Music Association New Artist of the Year Award.
"It's going to be a big letdown for me around 10 p.m. that night," Rucker said slowly. "That's when football season will end, after the Super Bowl. See, there are two times of the year: football season and waiting for football season. Why can't they play pro football Wednesday through Sunday?"
Rucker, who was raised in South Carolina, is a huge sports fan and has met a lot of athletes on the road. In fact, pro wrestler Ric Flair does a video introduction to Rucker's performance on tour, and the Nike-adorned Rucker has played golf with Tiger Woods.
In the past handful of years, Rucker has gotten addicted to fantasy football and actually won this year's title over his band and crew. "I wear this 'Fantasy Football Legend' T-shirt on tour just to rub it in," he said.
Rucker traditionally heads to the Super Bowl to watch in person, but he'll be off for a few days from the tour and will spend time with his family at home.
Rucker, who is married and has a couple of children, has a room in his house called the "Man Room," with six TVs ranging from 42 inches to 70 inches.
"We're just going to sit there and watch," he said. "I hope it's a good game. In my heart, I don't really care who wins. But I think the Colts probably will do it."