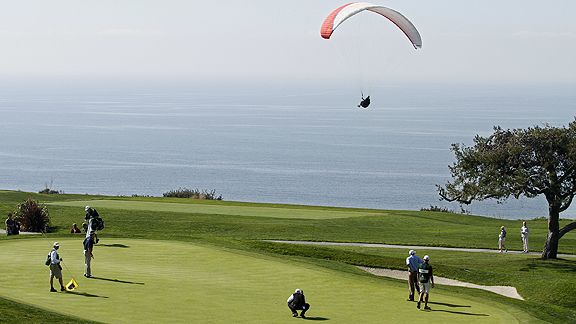 AP Photo/Denis PoroyWhat's exciting at the Farmers Insurance Open? Probably the hang gliding.
Who needs him?
The PGA Tour doesn't need Tiger Woods. Just check out Sunday's leaderboard for the Tournament Formerly Known As The Buick Invitational. You got your superstars leading in Ryuji Imada, Ben Crane and, uh, Michael Sim.
OK, maybe the Tour does need Woods. Or, maybe, what these guys need are nicknames. "On the first tee, let's hear it for Ryuji "Widowmaker" Imada, Ben "The Predator" Crane and Michael "The Undertaker" Sim!
And just a few shots back, Phil "The Grandfather Clause" Mickelson! (See, that's kind of a topical joke because some folks are calling Mickelson a cheat for using an improper club because it's allowed due to some kind of grandfather clause … oh, never mind.)
Let's get to the rest of the Brunch Bunch: