Whether you want to call it polygonal prognostication, crazy luck, or the betting wave of the future, there's something to be said for the artificial intelligence of a video game that not only predicted in uncanny similarity the Steelers' Super Bowl XLIII victory (Madden sim: 28-24; real score 27-23), but the 2010 NFC and AFC conference title games within just a few points. Don't believe us? Check out these results from last week: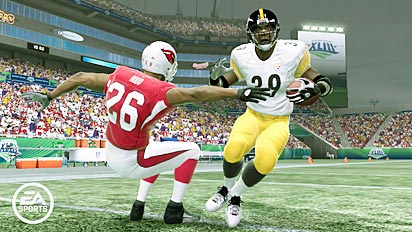 • Madden: Colts win 31-17
• Real: Colts win 30-17
• Madden: Saints win 34-31
• Real: Saints win 31-28
In fact, the Madden video game has correctly predicted five of the past six Super Bowl winners, with the only misstep being the Giants upset of the Patriots -- due to the fact that EA didn't program receivers' the ability to catch the ball against their helmets.
So check out ESPN.com's video games section on Wednesday for this year's Madden Super Bowl simulation, where we will break down all the key stats before they happen for real.
And just in case you need more convincing, here is a stat by stat breakdown of how last year's Madden Super Bowl sim compared to the real thing:
Score at halftime:
• Sim: 21-7 Steelers
• Super Bowl XLIII: 17-7 Steelers
Final score:
• Sim: 28-24 Steelers
• Super Bowl XLIII: 27-23
Ben Roethlisberger:
• Sim: 21/28 for 238 yards
• Super Bowl XLIII: 21/30 for 256 yards
Kurt Warner:
• Sim: 27/38 for 275 yards
• Super Bowl XLIII: 31/43 for 377 yards
Santonio Holmes:
• Sim: 8 catches for 131 yards
• Super Bowl XLIII: 9 catches for 131 yards
Larry Fitzgerald:
• Sim: 9 catches for 105 yards
• Super Bowl XLIII: 7 catches for 127 yards