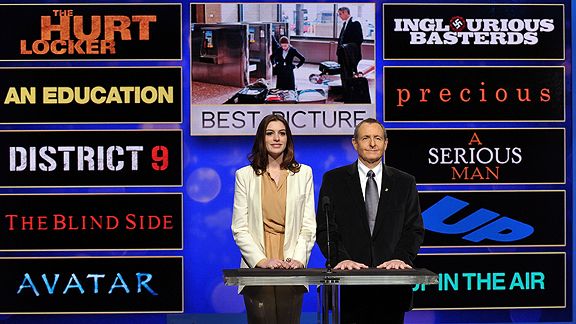 John Shearer/WireImageThe Academy nominated 10 movies for Best Picture on Tuesday morning, and Jim Caple is not thrilled about the new system.
The humble Academy of Motion Picture Arts and Sciences folks announced their Oscar nominations Tuesday morning, and what was most interesting was not the actual movies nominated for Best Picture, but rather the sheer number of movies nominated. For several decades, the Academy had nominated just five movies, but this year it doubled the number to 10.
The increase is: 1) an attempt to boost TV ratings by adding movies that more people may have actually, you know, seen; and 2) an attempt to increase box-office receipts and DVD sales by doubling the number of films that can now claim "Nominated for Best Picture!" in their advertising.
The Oscars are merely following the example set by pro sports leagues and the college football bowls -- the bottom line is, there is never a postseason that can't be expanded. The NFL, NBA, NHL and MLB have boosted profits and provided the illusion of greater parity by continually adding teams to their playoffs. College football keeps adding more bowl games, thereby increasing revenue and allowing more mediocre teams to claim a successful season. ("We went to the Meineke Car Care Bowl!")
The problem is, Hollywood is not making better movies (see "Bride Wars" and "Old Dogs"). Hollywood is simply deeming lesser movies great. Listen, I love movies -- but looking through the showtimes at my local multiplex each week, I can barely come up with a movie I even want to see, let alone nominate for Best Picture. There may be 20 screens, but 12 will be showing "New Moon," five will be showing "Alvin and the Chipmunks: The Squeakquel," two will be showing "It's Complicated," and "Up in the Air" will be sold out.
Most years, it's difficult enough coming up with five legitimate Best Picture nominees -- honestly, who would want to sit through a repeat showing of "Moulin Rouge," "Gangs of New York," "The Hours" or "The Curious Case of Benjamin Button"? Now the Academy has to come up with 10 nominees! Pretty soon we'll see a Michael Bay movie earning a Best Picture nomination, which would be the equivalent of the Pittsburgh Pirates or Detroit Lions making the playoffs.
If the Academy really wants to increase interest in movies, it should go all-out and follow the example of the NCAA men's basketball tournament. Simply announce a 65-movie field at the start of February -- "Land of the Lost" versus "Transformers: Revenge of the Fallen" in the play-in game! -- and then have an hour-long "American Idol"-type show each weekend during which Academy voters debate, argue, and narrow the field in half until there is a Final Four.
This would be a huge hit. For crying out loud, people would tune in just to see who the Academy voters really are and how they justify their votes! (Who voted for "A Beautiful Mind," anyway?)
Sigh. All I know is, the Academy doubled the number of nominees, and "The Hangover" still didn't get a Best Picture nod. If that's the best they can do, instead of expanding the field to 10, they should have just narrowed it down to two: "Up" and "Up in the Air."