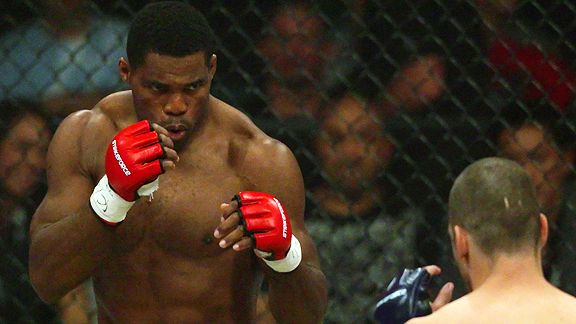 Cliff Welch/Icon SMI Herschel Walker eyes his opponent, Greg Nagy, and his next fight.
Now a few days removed from winning his first Mixed Martial Arts match, Herschel Walker is looking forward to his next one.
"I will start training soon. That's because I love the sport," said Walker, who is a fifth degree black belt. "I don't know whether people want to see me fight again, and I'm not sure whether Saturday night proved anything. But it wasn't a circus or a farce."
Walker, 47 years old and in tremendous shape, pummeled Greg Nagy at the Strikeforce Event in Sunrise, Fla., Saturday. And more than 500,000 people watched it on Showtime, the second largest audience ever for the cable network.
"My body is fine, but my hands are a little sore, though," he laughed. "Stepping into a cage, you have to realize that you're going to get hit. But you have so much adrenaline in you that you don't really feel it. Until later."
But Walker woke up Sunday and did his usual routine: 1,500 situps and 750 pushups. On Tuesday, he said he wouldn't mind fighting again.
"I love competition," he said. "Whether it's shooting marbles or baking a cake, I love beating a guy. It's not about knocking him out. It's just about winning."