Danica Patrick said she had a cool grandmother.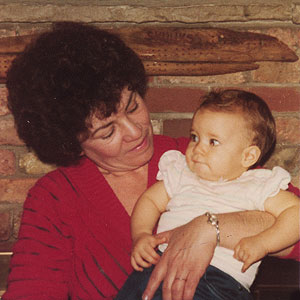 Biosector 2Here's a picture of Danica with her grandmother.
"My sister and I would go over to her house and play all the time," the race car driver Patrick said Wednesday morning. "I remembered that I'd get paid to pull the weeds out of the yard."
Patrick said her grandmother passed away in 2001 at age 65 of COPD (Chronic Obstructive Pulmonary Disease).
"I was just a teen-ager and I didn't have that mature adult relationship that I would have loved to have," she said. "That's why today I think a lot about my parents, husband and family, and I want them all to be healthy."
Wednesday afternoon in New York, Danica Patrick, actor Jim Belushi, retired athlete Bruce Jenner, singer Patty Loveless and football player Michael Strahan will join forces on DRIVE4COPD, which kicks off with a four-day, 6,000-mile cross-country race starting in Daytona on Feb. 13. Their goal: to screen 1 million people who may be at risk for COPD.
"I recall how it was difficult for my grandmother to breathe," Patrick said. "Over time, it became more difficult for her to do everyday activities and take part in family get-togethers."
Patrick knows that the media will ask about her driving in the Nationwide Series in NASCAR.
"I understand there will be questions about my career, but today, I'm focusing on this," she said. "It's time to raise awareness."