LaDainian Tomlinson insists he's not over the hill, even though he's 30. But he's starting to sound much older than his age.
"We're at a point where guys come into the league it's not about the same values no more," Tomlinson said in an interview with XX 1090 in San Diego. "It's not about the things that you're taught -- faith, family, football. To them it's not about that no more."
With such talk, it's no surprise Tomlinson keeps a to-do list in his pocket.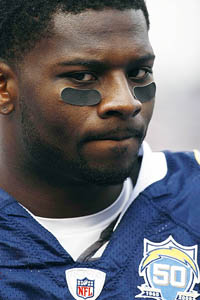 Robert Benson/US Presswire
• Ask equipment manager for leather helmet with dark visor
• Find out who this "Drake" is the kids on the team say is so good
• Have a man-to-man with youngblood Shawne Merriman about the women he's been seeing
• Call Lance Alworth. Thursdays mean bingo with Bambi.
• Wash Philip Rivers' mouth out with soap
• Pick up epsom salts from the drugstore
• Check box scores in the newspaper
• Send Brett Favre belated birthday card with $7 inside
• Chase kids off front lawn