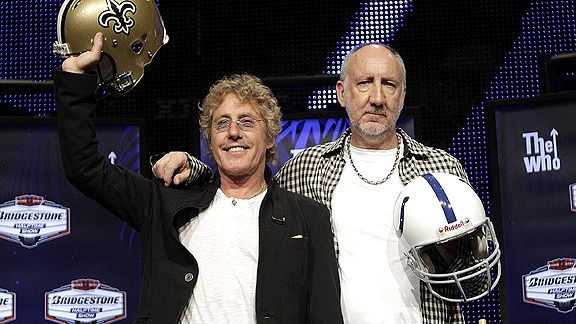 AP Photo/David J. Phillip Roger Daltry and Pete Townshend hold up the helmets of who they are rooting to win the Super Bowl.
MIAMI -- The Who were a little before my time.
But when Roger Daltrey and Pete Townshend sang three songs -- "Behind Blue Eyes," "Pinball Wizard" and "Won't Get Fooled Again" -- at the Super Bowl halftime media conference, they got a huge round of applause.
I think that's really one of the reasons the NFL keeps bringing back vintage rock performers for the halftime shows. In recent years, Paul McCartney, the Rolling Stones, Tom Petty and Bruce Springsteen have performed.
The audience and media can reminisce about the songs, the bands and the era.
So, when the Who performs on Sunday at halftime of the Super Bowl, people will either remember them as a legendary band or as the group who sings the themes to the CSI TV shows.
Daltrey and Townshend -- the only remaining original members of the band which began in the mid-1960s -- seemed happy to be in Miami. But it was easy to tell that Daltrey knew nothing about the NFL.
He fumbled over a few questions and didn't really have a sound reason for picking the New Orleans Saints to win the Super Bowl.
"I just want a good game," Daltrey said. "I just think New Orleans could do with a little bit of luck, so I will root for them."
Countered Townshend: "In that case, I will go for the Colts."
The Who will play for 12 minutes on Sunday, and Daltrey said if you take out the advertising and breaks, it's only about 11 and a half minutes of play.
"We're working longer than the players?" Townshend said. "We should redo our deal."
• Click here to purchase "The Who: Greatest Hits Live" from iTunes