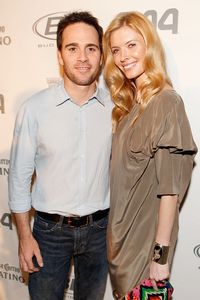 Christopher Polk/Getty ImagesJimmie and Chandra Johnson are expecting their first child in July.
With the news that Kim Kardashian is sponsoring a NASCAR ride to promote her new fragrance, Page 2 wanted to find out what NASCAR's own think of the new car, so we went to the best and asked four-time defending Sprint Cup champion Jimmie Johnson.
"I'm excited to hear that," Johnson told Page 2 when asked at Thursday's Super Skins Kickoff Party at Hotel 944 at the Eden Roc Renaissance in Miami. "I wasn't aware of that. Our sport is growing by leaps and bounds, going off into places that I'm pretty shocked. The fact that our sport is penetrating through all these different layers and levels and cultures is pretty badass."
But what does Johnson think of Mike Bliss driving a bright pink car on Feb. 28 at the NASCAR Sprint Cup Series race in Las Vegas?
"Well, I know that 60 percent or 55 percent of our viewing audience is females, and I think that bright pink car will make a lot of people happy," Johnson said.
Johnson was in Miami celebrating the Super Bowl with his newly pregnant wife, Chandra, who recently announced she is due in July.
"We're so excited," Jimmie said. "We have no idea what the hell's in store for us, but we're excited, and it's a great point in our lives and we're ready for it."
Johnson said not to be surprised if we see another Johnson racing in the future.
"I know growing up for myself, I spent a lot of time driving and riding different vehicles and kind of figuring out how to do that stuff before it was time, when I was 16," he said. "I hope to give my son or daughter that opportunity to learn how to drive and really find their way around before it's time to be 16 and go out and have those things in place on the road."