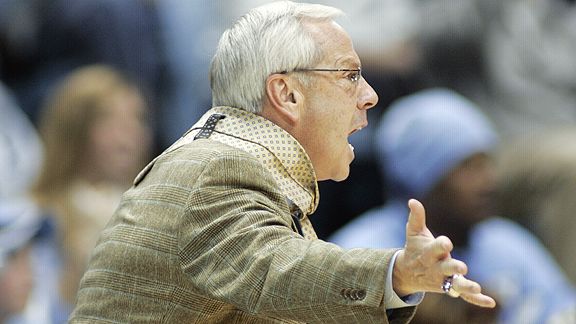 AP Photo/Jim R. BoundsRoy Williams is not a happy man these days.
Welcome back to the College Hoops DVR, in which -- depending on whim -- we look backward or forward or just let things play, always in quick succession.
REW: Duke's proposed Super Bowl ad -- a rabid Blue Devils fan sitting beside an attractive female -- was rejected by CBS for being patently impossible.
REW: During Colorado's overtime loss to No. 1 Kansas, Colorado fans chanted "Overrated" at the visiting Jayhawks. They followed that up by chanting "We are losers."
STOP: In its ongoing campaign against obesity and poor eating habits, the University of California-Berkeley will no longer recruit McDonald's All-Americans.
PLAY: Nine-year-old hoops phenom Skip Tumylou, a third-grader from South Central Los Angeles, has narrowed his college choices to USC, UCLA and the Sorbonne.