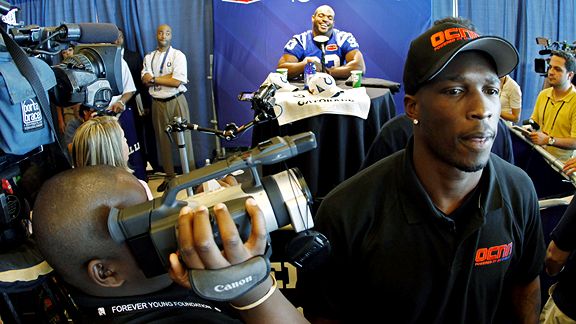 AP Photo/Charlie RiedelChad Ochocinco was right at home at the Super Bowl, even if the Bengals weren't parties to the game.
Chad Ochocinco is a 14-year-old boy in a 32-year-old man's body.
I'm allowed to say that because I spent a week in his inner circle.
Page 2 partnered with Ochocinco and his Ochocinco News Network for Super Bowl week, so I spent many hours talking with the Cincinnati Bengals wide receiver, many hours chasing him down to return my phone calls and many hours dealing with Chad being Chad.
• He really loves Twitter. He's a guy who loves attention -- that's fairly obvious -- but he loves to control the message. That's why he loves to update his Twitter page using his Motorola Cliq. He can write 140 characters of happiness, delivering his message to more than 740,000 followers. He can't stop staring at his phone.
• He loves McDonald's. That's not just because he has a promotional deal with the fast food giant. He really does love a quarter pounder with extra cheese and no onions. He also goes there for breakfast, and he's unhappy if the restaurant isn't open late. He is always hungry. One time he was so hungry he tried ordering me to get him food. I said no.