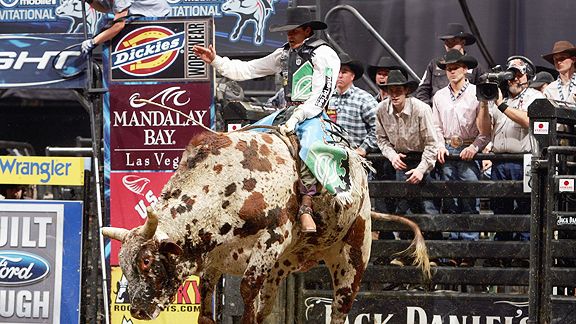 Harry How/Getty ImagesKody Lostroh won five PBR events en route to capturing the 2009 championship.
With another bowl officially in the books, it's time to move the chains down the page in the sporting phone book to bull. We caught up with defending Professional Bull Riders circuit world champion Kody Lostroh to try and figure out just why mamas shouldn't let their babies to grow up to be like him. Grab a spot by the campfire, cowboy, and wise up on the sport whose season is just heating up. Rule No. 1: Don't squat with your spurs on.
Page 2: I once had a few wild go-rounds on a mechanical bull in a New Orleans bar -- Bourbon Cowboy -- so I want you to know that I already have a pretty good understanding of what it takes to be a rodeo champ.
Kody Lostroh: Mechanical bulls are just bar amusement rides, really. They might look like the real thing but they don't compare a dang bit.
Really? I'm telling you this one on Bourbon Street is legit. I was pretty sore the next day, so I can only imagine the beating you take from the real thing.
Yeah, our pain tolerance is probably higher than the average, but we've been doing this our whole lives, so we're used to living a little banged up. Actually, it's only when you take some time off that you realize how good your body feels when it's not sore. You kind of get used to it.