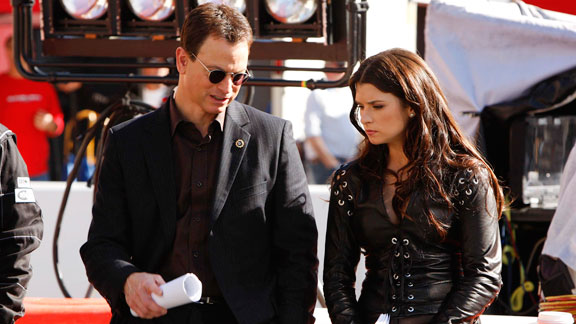 CBS for ESPN.comSeems like Danica Patrick is everywhere these days, including Wednesday's episode of "CSI: NY."
On Wednesday night, in the span of one hour, America will receive answers to two burning questions. Can Danica Patrick juggle IndyCar, NASCAR and acting? And is Antonio Sabato Jr. still alive?
The answer to both questions, it seems, is yes -- especially if you define acting as looking darn good on camera in a tight black leather racing outfit.
Patrick, the stock-car newbie who just received a rubdown in her latest steamy Super Bowl commercial for GoDaddy, will take a crack at yet another racing form when she appears in Wednesday's episode of "CSI: NY" as Liza Gray, a Formula 1 driver who's involved in a deadly crash during an exhibition race through Manhattan. The wreck, which might be the result of car tampering, claims the life of Gray's top competitor -- star F1 driver Davi Santos, played by Sabato Jr.
Given Patrick's rising celebrity status, it's a virtual certainty that we'll see more of her on small screens -- and, word is, big ones as well. Hollywood has buzzed about a potential Patrick bio flick for some time now. When last we spoke, she'd already put together her casting wish list. "I want Angelina Jolie to play me," she said. "I'm sure anyone would want Angelina to play them."
Who's running second?
"Katie Holmes would be great too, but only if I get to meet her baby."
Since Jolie, at age 34, is seven years older than Patrick and Mrs. Cruise is presumably busy raising Suri on a space ship, we'll add a third contender to the mix: Mila Kunis. She's a fine actress, possesses equal, um, appeal and is equally unafraid to push the envelope -- as evidenced by her recent on-camera sexual liaison with Natalie Portman in their upcoming film "Black Swan," which is due in theaters later this year.
Because we feel you need to know this stuff.