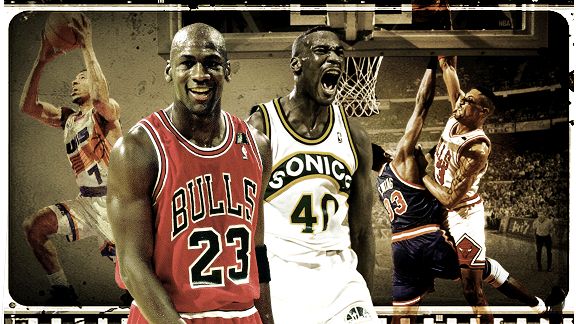 ESPN.com Illustration
Our SportsNation friends have whittled their 16-entry Posterized bracket down to four semifinalists. Cast your vote to help decide the greatest NBA poster dunk in NBA history.
Semifinals
• Michael Jordan over Patrick Ewing, 1991 vs. Kevin Johnson over Hakeem Olajuwon, 1994
• Scottie Pippen over Patrick Ewing, 1994 vs. Shawn Kemp over Alton Lister, 1992
Semifinal voting continues until Thursday at noon ET. Championship voting begins immediately afterward, and the winner will be revealed on Thursday's "SportsNation" at 4 p.m. ET on ESPN2.
• Click here to watch video of the dunks and cast your vote.