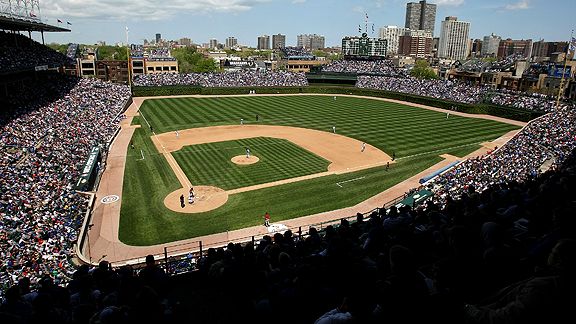 Jonathan Daniel/Getty Images
The Chicago Cubs recently announced that they plan to make some long overdue changes to Wrigley Field before the upcoming season, including opening a new space to host corporate pregame events and a much-needed expansion of the bathroom facilities. Those updates are fine and good, but we here at Page 2 would like to see them go a little bit further. Here are a few other additions we'd like to see the Cubs make to enhance the game-day experience.
Jay Cutler Dunk Booth: An alternative to the classic speed pitch, this game lets Chicagoans work out some of their frustration on their beloved Bears' hero-turned-zero. Any player who can dunk Cutler three straight times without throwing an interception is invited to compete in an open quarterback challenge at minicamp.
Replace the Warning Track with Quicksand: When combined with the ivy walls, the Cubs can recreate the conditions present in the classic Atari game "Pitfall!" -- thus capitalizing on baseball fans' hardwired love of all things nostalgic.
World Series Title Oasis: This summation of the Cubs' fan experience features a hologram of the hallowed hardware that disappears right when anyone wearing a Cubs' jersey gets close to it.
Racing Super Fans: Milwaukee has the sausages. D.C. has the presidents. The Cubs could create their own version of the popular game by bringing back Bill Swerski's Super Fans to race around the diamond. Just like Teddy in D.C., Todd O'Connor would never win on account of all the heart attacks. Heck, they could probably get George Wendt himself to participate; what else is he doing?
Steve Bartman's Listening Booth: In this interactive display, fans can use a replica of Bartman's famous Walkman to experience what's it's like for 40,000 people to scream at you at once.
T-Shirt Cannons on Waveland Avenue: Relying on your arm to throw opponent's home runs back is so last century. If the Cubs mounted a couple of T-shirt cannons out on Waveland, fans could return these wretched balls with style. Besides, it's a scientific fact that air cannons make everything more fun. Why waste their use on T-shirts?